April 11, 2020
Android smartphones are likely to be joined by Apple in the USA Mar 2020
Android smartphones are likely: In the past few hours Consumer Intelligence Research Partners (CIRP) has published new data relating to the smartphone market in the first quarter of 2020 in the United States: according to this report, Android smartphone activations were equal to 56% while the remaining 44% concern the iOS device.
Android smartphones are likely
Compared to last year, Android lost 8% (which, obviously, was gained by iOS) while in the first quarter of 2018 the difference between Google's and Apple's OS was even more marked (68% against 32%).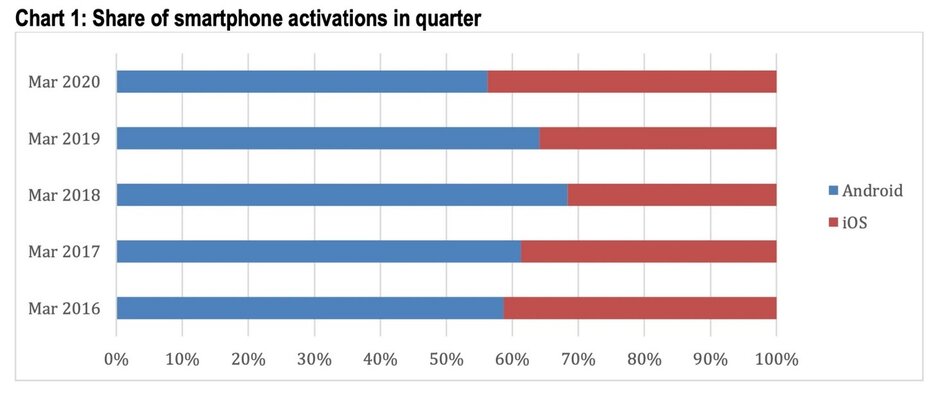 In addition, the CIRP report also revealed how difficult it is for Apple to attract a new iOS user from Android and vice versa: the latest data, in fact, show that during the first quarter of 2020 iOS had a 91% loyalty rate compared to 89% of Android.
In the U.S., Samsung's Android smartphones don't hold on to younger people
And also from the United States comes another report by Piper Sandler according to which Samsung cannot sell its smartphones to younger users, absolutely conquered by Apple.
In practice, Samsung has not taken on the "Generation Z" and this implies decidedly worrying prospects from a future perspective, especially if we consider that the United States is the main market for premium smartphones.
According to the Stock With Teens survey, 85% of American teens currently own an iPhone and 88% intend to confirm their trust in Apple for the next smartphone to buy.
Sources: Phonearena.com Sammobile.com